In an attempt to try and keep the world moving along, everything became virtual during the various national lockdowns across this year and last. Business meetings took place from the living room, weddings were held over Zoom, and even football stadiums had to superimpose the sound of the crowd during matches to give those watching from home a reminder of normality.
And as people were still keen to move home even during the height of the pandemic, viewings had to go virtual, too. But while online viewings served their purpose over the past 18 months, we are finally beginning to see a more permanent sense of 'normality' settle in. Meaning in-person home viewings and show home events can take place safely face-to-face.
The housing market also continues to swell, with house prices reaching record highs, and the demand for houses with more space continuing on its upward trajectory. According to the Office for National Statistics, housing sales were 20.8% higher in August this year than the same time in 2020.
Months of pent-up demand meant the housing market saw an unprecedented surge, with house prices seeing their highest monthly percentage rise since October 2015. In fact, it is the first time since March 2007 that Rightmove recorded all market sectors and regions of Great Britain hitting new record price highs in the same month.
Move in for Christmas
Properties are still selling faster than ever, with Hamptons predicting that more homes will be sold in
2021 than in any year since 2007.
With house prices so strong, downsizing to a new apartment is a fantastic option for those looking to move. And given you could be moved in before Christmas, maybe there really has never been a better time to buy a new-build apartment…
What's more, Troy Homes is excited to welcome customers back to our show homes for in-person viewings and events as 'normal life' resumes around the world.
Sambrook Court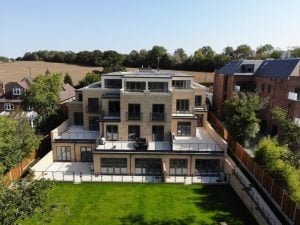 Sambrook Court is a modern development comprising 14 one and two-bedroom apartments located in a beautiful countryside setting. Living at Sambrook Court puts you just over 20 minutes from King's Cross Station by train — all while overlooking the prestigious Hadley Wood Golf Course with lush greenery as far as the eye can see.
We have just two homes remaining at this contemporary new-build development in Hadley Wood.
Plot 2 is an exclusive garden apartment on the lower floor of the development, offering a spacious open-plan kitchen/living/dining area, two sizeable bedrooms and a private patio. On the first floor is Plot 11, which also benefits from an open-plan living area plus en-suite bathrooms in both bedrooms.  Both apartments benefit from two secure basement parking spaces and a gorgeous private terrace.
Lawn Manor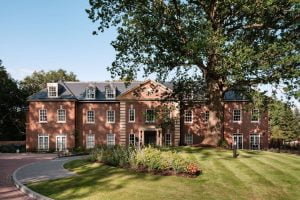 Lawn Manor is a gated, timeless collection of new homes for sale in Elstree. These stunning two-bedroom apartments are set within Lawn Manor's elegant façade — tucked away down a winding, tree-lined driveway for the ultimate privacy and seclusion. With its mellow brickwork, dressed stone detailing and mature woodland surroundings, Lawn Manor is an idyllic
development for anyone looking to downsize.
There are four beautiful new apartments remaining at Lawn Manor. Each home has two spacious bedrooms with en-suite bathrooms, their own private terrace and two car parking spaces.
Throughout November and December, we are inviting you to drop in to Lawn Manor for a glass of steaming mulled wine and a buttery mince pie. Simply fill out your details — we would be delighted to see many new and familiar faces in the coming weeks.
We are taking reservations for all these new-build homes in Hertfordshire now. So, if you register your interest in Sambrook Court or Lawn Manor today, you could be moved into one of these brand-new luxury apartments in time for Christmas!
As a quality housebuilder, Troy Homes is dedicated to designing beautiful new properties across Buckinghamshire, Hertfordshire, North London and Essex. Get in touch today to see what we can offer you.