Many people associate downsizing with compromise. However, choosing to live somewhere smaller — like an apartment — does not mean your new home needs to fall short of the qualities and features you seek.
We have explored six pertinent reasons why now is the best time to downsize to an apartment and all the benefits this change could offer you.
The time is right
In the wake of COVID-19, house prices are at a 16-year high. The housing market is exceptionally strong across the board — even for older properties that require substantial refurbishment. Downsizing to an apartment in the current climate means you can achieve a premium for your house and find a sensibly priced apartment that truly suits your lifestyle.
Troy Homes is also offering to assist you with the sale of your current home if you choose one of our new Sambrook Court apartments. An independent estate agent will negotiate a sale of your homeefficiently and for the best possible price through to completion, saving you valuable time and avoiding any unnecessary hassle.

No need for compromise
Homeowners are often concerned about the lack of outdoor space when considering the move to an apartment from a house. Unfortunately, apartments have a reputation as a compromise — but this could not be further from the reality.
Each of Troy Homes' gorgeous, modern apartments benefit from plenty of outdoor space: many have sizeable terraces, patios or balconies and are on the doorstep of the English countryside.
In particular, the apartments at our contemporary Sambrook Court development overlook the prestigious Hadley Wood golf course, and all offer their own substantial private outdoor space and two underground parking spaces.
Put capital aside
With house prices at an all-time high, downsizing to an apartment enables you put capital aside.
With the additional funds, you can top up your pension, create an IHT saving scheme or buy a home overseas as you enjoy your new lifestyle.
Lock up and leave
Security is always a concern for homeowners. When travelling for long periods, nobody should need to worry about whether their home is safe.
The 'lock up and leave' nature of Troy Homes' apartments means you can feel confident in your home's safety — whether you are away from it or not. What's more our elegant Lawn Manor development in Elstree is gated, offering the pinnacle of seclusion and security. These timeless apartments are set back from the road for maximum privacy along a tree-lined driveway.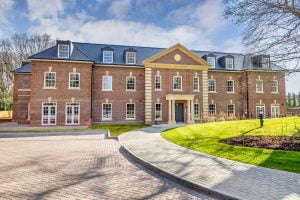 Modern living with no more maintenance worries
Although many people enjoy living in older homes, there is often an unfortunate caveat that these properties require constant repairs, whether it be a leaking roof or the need to re-fit old, inefficient windows. Downsizing to a newly built apartment means you do not have to worry about attempting to modernise your current home.
Troy Homes' brand-new apartments come with a 10-year NHBC warranty and we manage the maintenance of each building for you. Our apartments are fitted with high-speed, fibre-optic WiFi and are home to state-of-the-art appliances throughout, such as induction hobs and hot water taps in all kitchens.
Reduce running costs and your carbon footprint
Large, older homes are notoriously expensive and time-consuming to run and, in particular, to keep warm. The nature of these buildings and their lack of up-to-date features often means they are inefficient and costly to maintain.
Troy Homes' new apartments are very well insulated and have draught-free windows and underfloor heating. Their well-designed, smaller footprint means you spend less time cleaning and less money on heating bills. Our homes are constructed using high-quality, energy-efficient materials, not only lowering monthly running costs, but also resulting in a far lesser impact on the environment.
Many of our apartments also feature car charging ports, allowing you to charge your electric car from the safety and comfort of your own home.
As a small housebuilder, Troy Homes is dedicated to building exclusive homes that exceed expectations. If you are interested in downsizing to a luxury apartment at our Sambrook Court or Lawn Manor development, get in touch today.